Plasma Table build
I have been doing a bunch of research the past few days with building a custom CNC plasma table. So far I know I need at least a few basic things.
Short List of Items needed
Custom Table (4×8 plus at least 3 inches on each side for extra room to move).

Computer to run software

Knowledge of CNC machines

Precision rail guides Source

Cable carriers (Make sure cables do not get damaged)

Rack and pinion gear set for motion control

motion solution for z axis

Plasma Cutter capable of running all of the parts that I am in cutting without restrictions.
Of these items I have some of them figured out and some just started research on. The knowledge of the CNC is totally covered. I have run them for more than 18 years. The table fabrication is under consideration and in the development stage. The computer is also covered as I have many extras just lying around (call me a geek). The rest is still being researched. I have provided some links to what I have considered so far and I will keep adding to this in the future as the project continues.
The project will look something like this: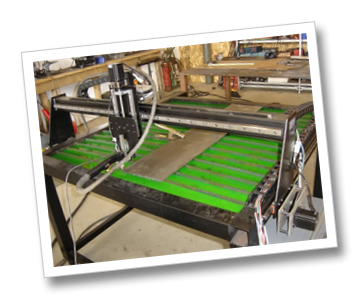 Ref: Plasma Table