CNC Plasma | Gantry Almost complete
I have completed quite a bit this last couple of weeks. I made the leveling feet for the lags and came to the conclusion that it was going to be to high once they were on, so I had to cut the legs 4" shorter. This brings the overall height don to a more reasonable level, about 39 inches to the top of the table.
The feet are pretty simple to build and can be done with a chop saw and a drill press.
I used a piece of Dom tube that I had laying around. Cut some 1 5/8" long pieces and welded on a 3/4 – 10 heavy hex nut. I then welded a 3/4 –10 bolt threw a hole in a 1/4" thick piece of steel cut to match tube dimensions. To make sure the plate was welded with bolt sticking out straight I ran the nut onto the bolt with the plate in place. Then I held the bolt on end pushing down on the plate so that it was at the base of the threads. I was pleased with the way this worked.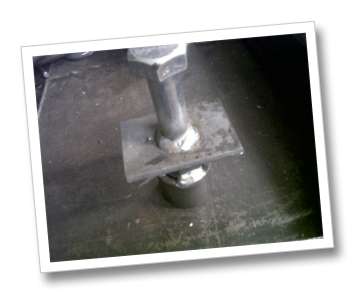 The bolt will stick up into the frame and not be seen. Then I can use a wrench on the nut to adjust the frame to make sure it sits level, so the water is the same depth at all corners.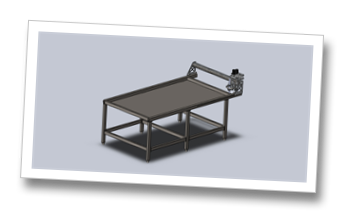 The gantry itself has come along the farthest. This week I made the studs to hold the v-groove wheels to the z axis. (Yes I redesigned it AGAIN )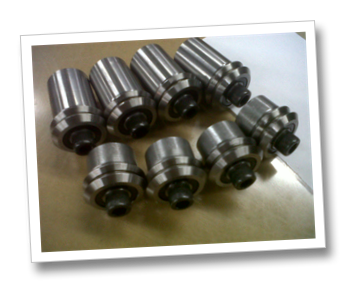 Many of these changes were due to the weight of the gantry. With the stepper motors and hardware I am getting it can not be over 90 lbs. (for best performance). With this design it is at 88lbs. Quite the feet bringing is down from 130lbs that I started with. I tend to over build.
This is how it sits as of today. (clamped to weld table)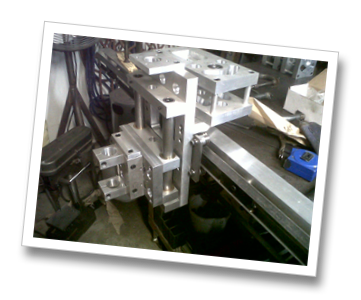 The track is made from 3/4" angle with points facing opposite of each other, welded to a piece of 1/4 x 2" with four mounting holes along length. The travel is surprisingly smooth for rough angle iron.
In the next couple of weeks I will be completing the table and the end of the gantry as well as ordering the electronics.