Air Compressor
A couple of years ago I made the rooky mistake of letting my air compressor get low on oil. I know you should check that before you run it for extended periods of time. Turns out this was not the only issue. Seams the oil splasher on the bottom of the rod was broke and it starved that cylinder for oil. I did a quick ball hone job, some new rings, a new rod(with a new oil splasher on it) and slapped it back together. This worked until I got the CNC Plasma up and running and it started to push oil out in the air. We all know that an air plasma requires the air to be absolutly dry and clean so this was a real issue. It got to the point that the plasma was refusing to cut as it did before. Because of this I have been contemplating what I should do. I could just go out and purchase a new one or just buy a new pump, but where is the fun in that and why does the pump cost more than the entire thing anyway?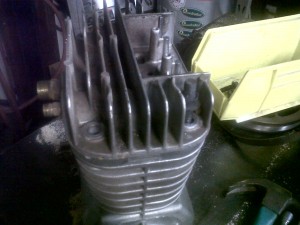 So yesterday I decided to do an overhaul and started with the tear down of the pump. This pump is on a compressor that I have had for about ten of fifteen years (not really sure when I purchased it). It is an aluminum pump with steel sleeve. Seams these are very outdated and have since been replaced with a cast iron pump.
I removed the pump from the tank and moved to the bench to keep everything in one place. I tool of the head of the pump and saw what was causing the issues. The rings seated fine but there were still some grooves left in the walls of the cylinder.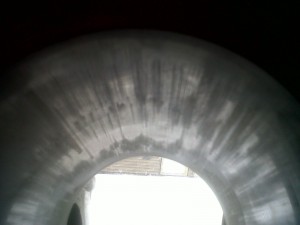 This image tries to show the grooves after it was completely tore apart. The top of the piston had burnt oil residue and the entire passage to the tank was oil saturated.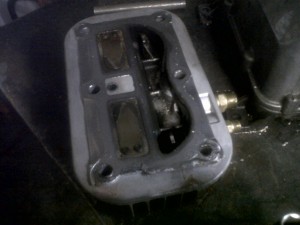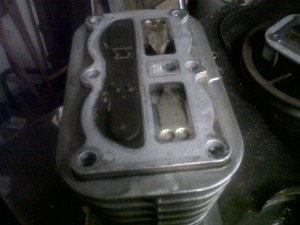 As you can see this is not a good scenario for good clean air. After dis-assembly I cleaned up the head and sandblasted it to remove the carbon buildup.
I still need to consider just re-sleeving this or boring up to the next size piston. I need to source few items before I can make this decision.
I will be keeping a total cost of this rebuild for reference:
Total cost at this point $0.00
Watch for future updates as I complete this rebuild.