Gopro Roll Bar Mount Bolts
After loosing a bolt for the roll bar mount for my Gopro (Again) I needed an easy way to replace this in a hurry so I could use it without having to order a replacement or having to buy a new mount to just get the bolt.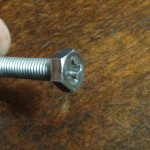 Doing some research I found that Gopro did not offer a package of misc. bolts to replace those that are lost. Email was sent to ask why they do not sell them.
I found that this bolt not easy to find at my local stores. Well at least with a hex head. I was able to find a button head machine screw 10-32 that was 2.5″ long. Only issue is that the roll bar mount from Gopro uses the bolt in a different way than all other mounts. The bolt passes through the mount then into the knob to be tightened down. All other mounts the bolt goes into the knob then the mount has a nut or insert to tighten it up with.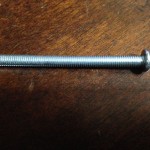 As you can see below is that this does not fit into the mount and even if it did it would just rotate and not tighten up for you without a screwdriver.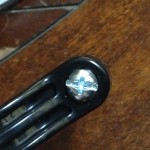 So what I did was to put two flats on the head of the screw.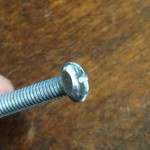 This allowed the bolt to seat into the mount and not rotate when you tighten it up. Looks a lot the original.
Now I have a few spare screws in case I lose another.